March 10, 2020, DALLAS, Texas – Family Gateway, which provides stability and life-changing supportive services to children and families affected by homelessness, has increased its capacity to serve more North Texas families through the opening of the new Simmons Family Gateway Resource Center.
The Center, located at 1421 W. Mockingbird Lane, Dallas, 75247, is housed in space that Family Gateway leased from the building owner, Catholic Charities Dallas. Family Gateway's 35-room Emergency Shelter in downtown Dallas, which also previously housed the organization's offices, is now dedicated solely to shelter services. Family Gateway was represented in the transaction by Eliza Solender of Solender/Hall, who negotiated the deal with the two non-profits. The seven-year lease is for approximately 6,300 square feet of space.
"As commercial real estate continues to increase in value, non-profit organizations are seeing more of their budget go toward rent and real estate related costs, thus they have to become ever more creative in how they fulfill their space requirements," said Solender. "A transaction like this is so satisfying because it is a win-win for both organizations. We have an understanding landlord who recognizes the unique needs of a non-profit service provider and wants to find opportunities for collaboration. Both organizations will be able to focus more of their scarce resources on critical community services."
"Simply put, given the high demand in our community, we were running out of room for families at the shelter," said Ellen Magnis, president and CEO of Family Gateway. "Now, with distinct spaces for shelter and operations, we can serve more families by adding beds to what was previously office space. We appreciate the financial support of the Harold Simmons Foundation and an anonymous donor who helped make this possible, and for Catholic Charities' willingness to lease their surplus space as intended to a complementary non-profit. It was the perfect solution, and we look forward to working together to serve more families with our respective services."
Dave Woodyard, CEO of Catholic Charities Dallas, said, "When we acquired the building in 2017, our intentions always included welcoming a few great non-profits to our campus. This lease provides Catholic Charities an additional income stream to help offset our operating expenses while providing Family Gateway with a below market lease. More importantly, it enables both organizations to serve more people and to provide additional complementary services. Family Gateway is a highly respected organization, and we couldn't be happier to help them solve their space issue."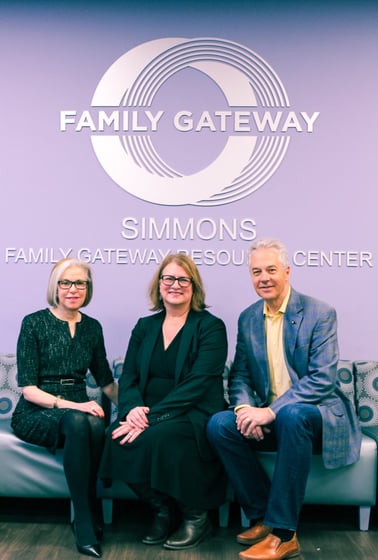 The Simmons Family Gateway Resource Center houses the organization's high-volume Assessment and Diversion practice, supportive housing case managers, administration, and a vocational/employment case manager. The space was created with trauma-informed design elements, and includes an oversized waiting area, private consultation rooms and a call center. Families with children experiencing or near homelessness will now be assessed at the new space and then triaged to the emergency shelter or to partner shelters as needed. As a result, four additional rooms have been added to its downtown shelter.
ABOUT FAMILY GATEWAY:
As the county-wide point of entry (access point) for families with children experiencing or near homelessness, Family Gateway believes in providing housing first and then using trauma-informed services to help break the cycle of poverty. The mission of Family Gateway is to provide stability and life-changing supportive services to children and families affected by homelessness. For more information, visit www.familygateway.org.
ABOUT CATHOLIC CHARITIES DALLAS:
Catholic Charities Dallas (CCD) educates, serves and empowers more than 50,000 clients in need annually across a nine-county region of North Texas, addressing the root causes of poverty and homelessness. A large multi-disciplinary agency, CCD provides services in hunger alleviation through boxed food pantries, client choice pantries and mobile community pantries; early childhood education; low-income elderly supports; permanent supportive housing for homeless elderly; immigration legal resources; pregnancy, parenting and adoption counseling; refugee resettlement; shelter and foster care for unaccompanied refugee minors; financial coaching and career development assistance; disaster preparedness and relief; community relations, advocacy and more. For more information, see www.ccdallas.org/.
ABOUT SOLENDER/HALL:
Since 1991, Solender/Hall has been specializing in the representation nonprofit organizations in the North Texas area. Find out more at www.solenderhall.com or by calling 214.265.8200.